Providing Peace of Mind
Since 1994
Probate Estate Planning and Guardianships/Conservatorships Attorney in North Idaho and Spokane County, Washington.
Hal Prukop J.D.
Attorney at Law & Certified Senior Advisor
Harold "Hal" Prukop has been a licensed attorney since 1994. He is also a Certified Senior Advisor and has extensive financial service professional experience. This combination gives Hal a unique perspective when providing estate planning and wealth management counsel. From reviewing your will to establishing a guardianship or conservatorship, from representing you in probate administration to planning for your retirement, he's here to help you build your future, your way.
Why Attorney Hal Prukop?

Personal Experience

Responsiveness

Military Background
Every client's situation is unique, so Attorney Hal Prukop never takes a cookie-cutter approach. As a former U.S. Army Captain, he understands the importance of detail and intentionality when serving others. He is always happy to answer your questions and will work hard to understand your goals. With nearly 30 years of legal experience, he has what it takes to help you build a meaningful estate plan and guide you and your family through the probate process.
Services
Attorney Hal Prukop is licensed in Idaho, Washington, and California. He only handles trusts with California clients, specifically for those who have Washington or Idaho residency or are planning to establish it.
Move Toward a
Brighter Tomorrow
Attorney Hal Prukop is here to help you make your future wishes clear. Schedule an appointment to enlist his support.
Estate Planning Matters
Estate planning is so much more than deciding which family member gets what asset when you pass away. It's about protecting what you've spent your life building and setting your loved ones up for success in any way you can. Discover how Attorney Hal Prukop can help you build a plan that suits your goals and meets the needs of your heirs and beneficiaries when you contact his law firm in Spokane County, Washington.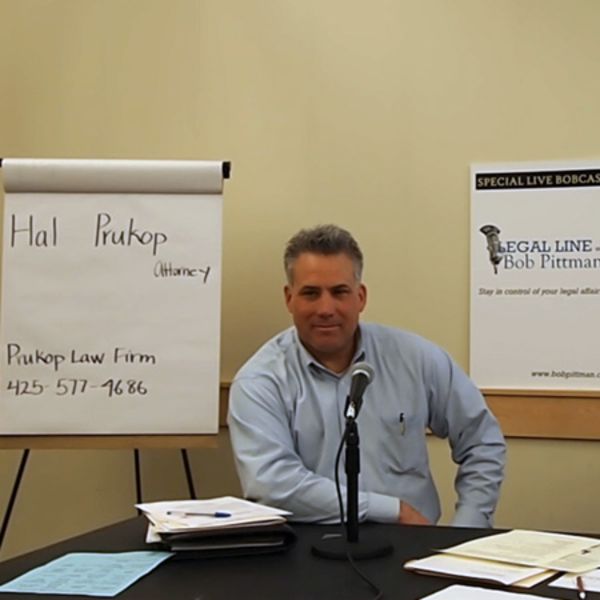 Definitely Recommend
I had Hal Prukop redraft all of my pertinent estate planning documents. He did an excellent job in a timely manner! [...] I wanted to take advantage of recent law changes, and make some substantive changes, so we executed a whole new Will, General Power of Attorney, Durable Powers of Attorney for Health Care and one for Financial Decisions, and also executed my Health Care Directive to Physicians (Living Will). Hal's professional work resulted in me now having complete Peace of Mind on these matters. I definitely recommend his services.

Very Knowledgeable
I worked with Hal in Financial Services from 2011 to 2013. In that time, I have known Hal to be detail-oriented and very knowledgeable in every aspect of financial services. Having an extensive background in financial planning, I would recommend Hal as an Estate Planning and legal advisor expert in Western Washington.
Prepare for Anything With Experienced Guidance
While you may not be able to predict the future, you do have the power to plan for it. At Prukop Law Firm, Attorney Hal Prukop is proud to help his community with comprehensive estate planning services. Whether it's updating your will to fit your goals, representing you during a probate dispute, or establishing a guardian, he's here to put his experience to work for you. No matter your situation, he can help you seek your best result.
When you're building your future, you deserve a skilled advocate. Attorney Hal Prukop is also a Certified Senior Advisor and licensed financial professional. Empower your future with his services. He offers personalized counsel for wills, trusts, powers of attorney, elder law, retirement planning, and much more. If you live in Spokane County, Stevens County, Pend Oreille County, or North Idaho, contact Attorney Hal Prukop in Liberty Lake today.